Arrival Information
As the Congress is approaching, we would like to provide you with the following practical information how to reach Caen in Normandy:
From Charles de Gaulle airport by public transportation to Saint Lazare station where you can take "trains to Normandy":
1- By train from the airport to Saint Lazare station
You should take train "RER B" from the train station at the airport to reach « Châtelet-Les Halles » Ticket about 10 euros and duration: 45 min
Using the same ticket, from « Châtelet », you take metro 14 (direction: Saint Lazare) till reaching Saint Lazare station (5 min).
2- By bus from the airport to Saint Lazare station
From airport « Charles de Gaulle terminal 1 », take « Roissy bus » directly to reach « Opera » (Ticket about 13-14 euros and duration 67min). Then walk from « Opera » to « Saint Lazare station » (9 min). For more info Page ligne Roissybus | RATP
3- By uber or taxi to Saint Lazare station
Fare: about 39-60 euros (duration 51min).
In Saint Lazare stations, there are trains that go directly to Caen (you can book them in advance using this link www.sncf.com/en or on the spot (from Paris Saint-Lazare to Gare Caen). Tickets about 20-30 euros and the journey takes 2 to 2.5 hrs).
Example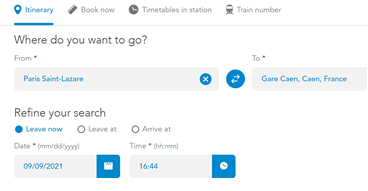 4 Another possibility is a direct bus from the airport to Caen (Flix bus)
In the airport we have 3 terminals, to go from terminal to another, you have to take the airport free shuttle (CDGVAL).
Flix bus is available in terminal 3 bus station of the airport, it goes directly to Caen. This bus is not very frequent so it is better to have a look and book it in advance. For more information about bus hours, visit this link FlixBus: http://www.flixbus.fr (15-20 euros).
5- For those who come from Lyon, Marseille, Nice et Bordeaux, you have the possibility to book a direct flight to Caen airport (Carpiquet). Duration 2 hrs.
When you arrive to "Gare de Caen", you can take Tramway 1 (direction: Hérouville St. Clair) and stop at « Copernic » to take Tramway 2 (direction: campus 2) and stop at CHU. Walk for 6 min to arrive at venue Centre François Baclesse - 3 Avenue du Général Harris, 14000 Caen.
For travelling within Caen by taxi (Taxi Abeilles): +33 (2) 67 22 47 25
For question and information please contact:
Mira Hammad, post doc, Aria laboratory at: